Thank you so much for purchasing our theme called Bascart- WooCommerce WordPress Theme. Please feel free to contact us if you have questions or problems about this theme. No guarantee is provided, but we will do our best to provide you with the best possible assistance.
First Step #
Documentation – That's where you
License – Some info's about theme licencing terms
Dummy Content – Placeholder content for testing the theme
SampleData – Import Data to get the exact Site as the Preview Page
Upload – This is where all Theme files are (zipped & unzipped format)
Please read more about wordpress here
What are Parent and Child Themes? #
A WordPress child theme takes the functionality of another theme, named parent theme. It gives you the possibility to customize an existing theme. Instead of modifying the theme files directly, you can activate the child theme and work within it.
All customizations are stored in the child theme and anything in the child takes priority over the parent. So if the same file exists in both child and parent, the file from the child will control that aspect of the theme.
Working with child themes, your customizations are safeguarded from future upgrades because you only upgrade the parent theme, which you never edit, while the customizations are protected in your child theme which you don't upgrade.
Why use a Child theme? #
Safe Updates. You can easily modify your website using child themes without ever changing the parent theme. When a new version of the parent theme appears, you can safely update it as all your modifications are saved in the child theme. Easy to Extend. A child theme has a great flexibility. It does not require writing a lot of code. You can modify only those template files and functions that you need.
When you install one of our Bascart themes you must upload both Bascart parent and Bascart child theme folders to /wp-content/themes/ but you should only activate the Bascart Child theme via Appearance -> Themes.
Install Theme #
The first option how to install this Theme would be to directly upload the Bascart.zip file via WordPress Theme Uploader.
Minimal requirements:

PHP 7+
MySQL 5.0+
WordPress 5+
Php.ini settings:
max_execution_time = 600
upload_max_filesize = 68M
post_max_size = 128M
memory_limit = 512M
max_input_time = 300
max_input_vars = 10000
Please make sure you have proper version of wordpress installed.
Log Into WordPress and go to Appearance > Themes
Find the BascartTheme and click activate
FTP Upload:
Unzip the "Bascart.zip" file from theme folder
Open up your FTP manager and connect to your hosting
Browse to wp-content/themes
Upload the Bascart in theme folder
Log Into WordPress and go to Appearance > Themes
Find the Bascart Theme and click activate
WordPress Dashboard:
Log into your WordPress backend
Navigate to Appearance > Themes
Click Install Themes
Click Upload
Now you just need to find the "Bascart.zip" in the Upload folder and hit Install now.
After complete installation click on active button to active The theme.
Install Required Plugins #
After activating the Bascart theme you will see the below window. and install all required plugins.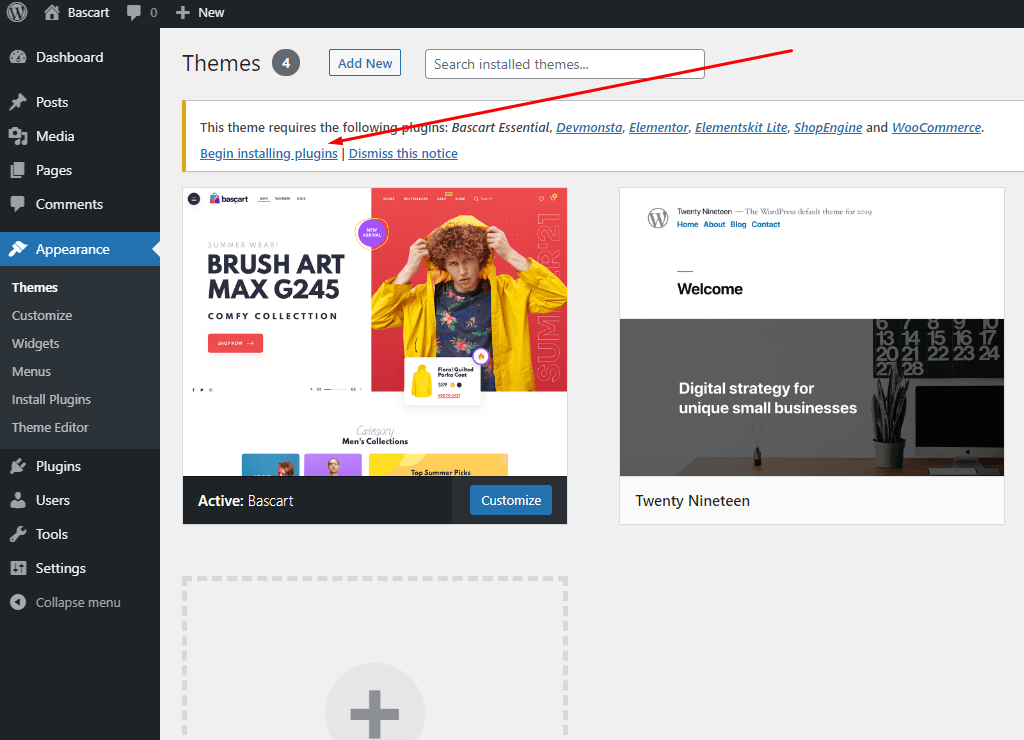 Oneclick Demo Content Install #
!!! Don't install One-click Demo content if you have an existing Site, Use Manual Demo Data XML Import.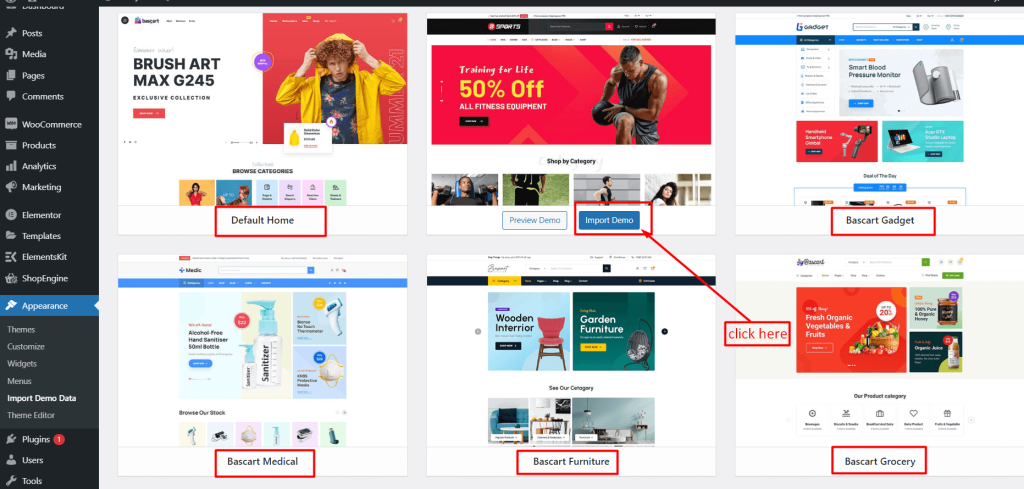 It will take some time to install full demo data like the demo site.
You are done! 🙂
Theme Update #
Get notify and update the theme automatically
Once you have installed one of our themes, there is an easy way to stay updated with future releases. All you need is to install Envato Market plugin.
Step 1: Download the plugin from the GitHub repository.
Step 2: Install this plugin into your site. It's an easy way to install plugin.
Step 3: To establish an Envato Marketplace API connection navigate to the ( Envato Toolkit) page and insert your Marketplace username and secret API key in the designated input fields. To obtain your API Key, visit your "My Settings" page on any of the Envato Marketplaces.
Step 4: Once the API connection has been established you will see a list of themes that can be auto-installed.
How to update the WordPress theme Manually
Please, follow the doc for better understand: Update Theme manually